The SXPF Name and Logo
Our vision— to create a name and logo that is recognized as a pottery focused event, while reflecting our purpose, our location, the landscape, and of course our culture! Read on to learn more...
"Southern"
For starters, Louisville is the Gateway to the South! Many may argue, but historically speaking Louisville became a stopover in the late 18th century because of The Falls of the Ohio; which is a series of rapids in the Ohio River. These rapids would force settlers traveling by boat to come ashore, which then led to Louisville becoming a major portage site in the steamboat trade. Still don't believe us? Then you should continue reading this article written by Marc Shallcross.
We found that "Louisville", "Derby City", "River City", "Fleur De Lis" and other similar terms too limiting because our focus is to introduce an audience to what is happening not only locally, but also in our region and on a national level. Plus, what better city to celebrate vessels (especially drinking vessels) than in the land of Bourbon? Plus, Louisville sure knows how to provide some southern hospitality, ya'll!
"Crossings"
Louisville has been experiencing a lot of growth in its neighborhoods, downtown, in the performing arts, food and beverage industry, and of course the visual arts community. New additions are constantly underway. In the past couple years two milestones have been completed; the repurposing of the Big Four® Bridge (2013) linking the Louisville Waterpark to Jeffersonville, Indiana as a pedestrian bridge, and the Lewis and Clark Bridge (2016), linking East end Louisville to Southern Indiana. Since we were developing an event that connects communities together, the idea of paying tribute to an architectural icon of a bridge just made a whole lot of sense! "Southern crossings" almost paints a mental picture of traveling over streams, rivers, country roads and train tracks by car, bike or foot, painted a beautiful picture of our Kentucky and Southern Indiana landscape.
"Pottery"
This one may seem self explanatory, but handmade pottery is the main focus of our community weekend! The SXPF Potters Market is a way for us to introduce potters who may be nationally recognized because of their contribution to the field of ceramics through lectures and workshops, have published articles or books, or exhibited or been featured in national publications. More importantly the work represents a breadth of current trends and traditional techniques through forms and surfaces that represent the wide spectrum of our field. Invited artists are rotated out every year or every other year so that we can continue to introduce our audience to variety of makers.
The SXPF Empty Bowls event is a time for us to focus on the impact pots can have on a local level. These pots, specifically locally made ceramic bowls, are used to help fundraise and support a charity that's mission is to end childhood suffering in Kentuckiana. This is when we highlight our local potters who donate their handmade bowls, chefs who donate soups, and performers that provide live entertainment -- all showcasing the variety of flavors Louisville has while all of us come together in fellowship.
During the SXPF Potters Market and Empty Bowls dinner, we make it a point to connect our audiences to opportunities and resources that promote education through pottery and pottery related activities like promotion of pottery sales, studios, and retailers.
"Festival"
It's time to celebrate the vessel and what all it can do! We're doing just that with an opening reception on Friday night highlighting our SXPF Potters Market artists and their art, along with live music, and of course amazing food and beverages. Then during the day on Saturday, the festival will highlight the aesthetics of vessels with special tours and tastings in partnership with Copper & Kings Distillery. Finally, Saturday night we have the SXPF Empty Bowls dinner with several of Louisville's best restaurants and chefs donating soups, live musical performances, and a large array of locally sourced handmade bowls. It's pretty much a party, and if you know many potters, then you know we really like to have a great time!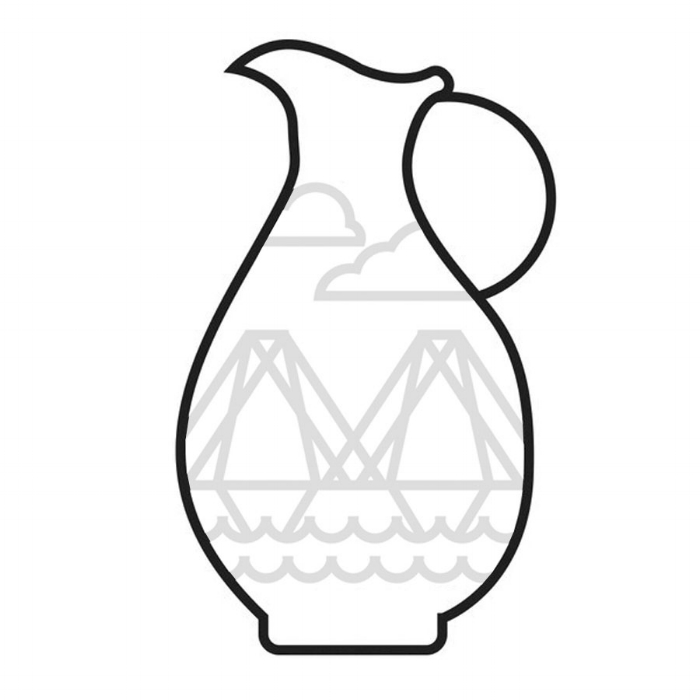 When thinking of a vessel for our logo we decided on the pitcher. Using a ceramic vessel was important to us, but selecting what vessel was an obstacle; until we began reflecting upon our goals and vision. Symbolic of hospitality, service, and in ancient times (depending on your research) the pitcher also represents the human vessel being filled with knowledge and spirituality, as well as pouring and sharing ourselves with others.
The pitcher couldn't sit empty, so we decided to fill it with water -- water of the Ohio River. That river connects our home with the many others we are committed to as well! The bridge represents our landscape, our name, but also the development of one of Louisville's newest landmarks.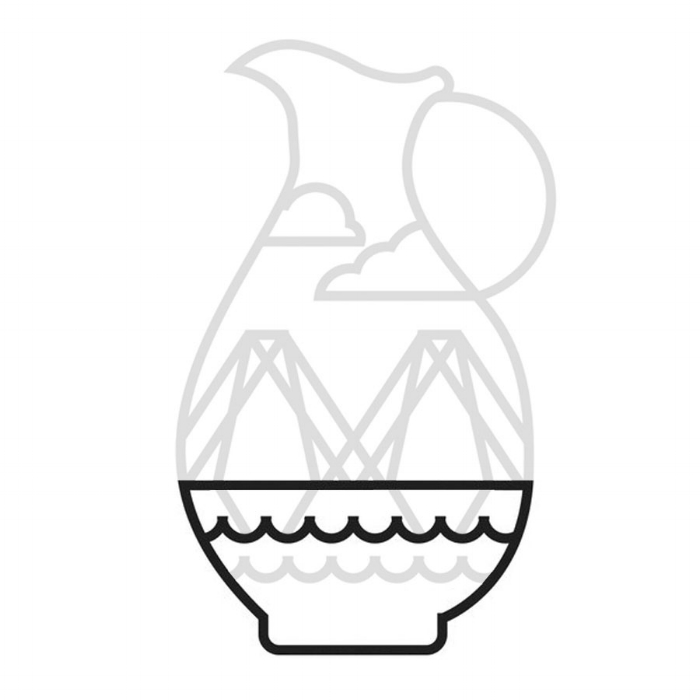 This symbolizes the hand made bowls for our SXPF Empty Bowls component of our festival. The pitcher represents service, and the bowl a continuation of feeding our community and in turn our community helping feed those in need.
Many thanks to Louisville based Graphic Designer Matt Scott Barnes of Studio P/O for taking the vision and creating the SXPF logo.